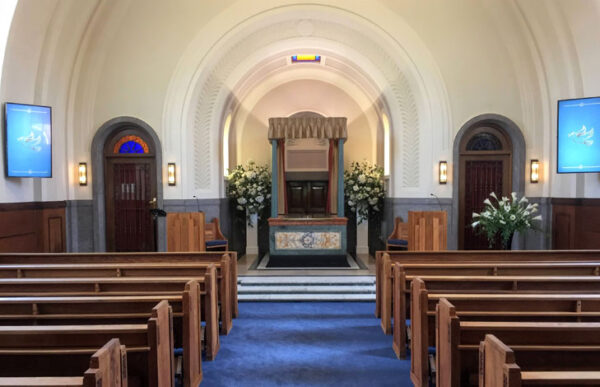 The cremation or burial can then take place afterwards with or without witnesses, or if preferred, the ceremony can be arranged as a memorial service following a private committal.
Most crematoria have chapels suitable for religious or non-religious services for about 100 seated mourners. For a greater number of mourners than 120, it might be more prudent to consider having the funeral ceremony at a larger location, such as a church or hall – obviously dependant on whether the service is to be religious or not.
The time allocated for a service at South West Middlesex, Breakspear or Mortlake crematoria is a maximum of 30 minutes per slot, therefore if a large congregation or a longer service time is required, then a double slot will need to be booked.
Most cemeteries have a chapel where a service can be held, but we need to check as to its capacity and what facilities are available. If no suitable chapel exists, then maybe the service venue can be at a local church, hall, function room or even at the family home. Alternatively, a service can be held at the graveside.